EMIS-BAR pressure transmitters got ATEX certificate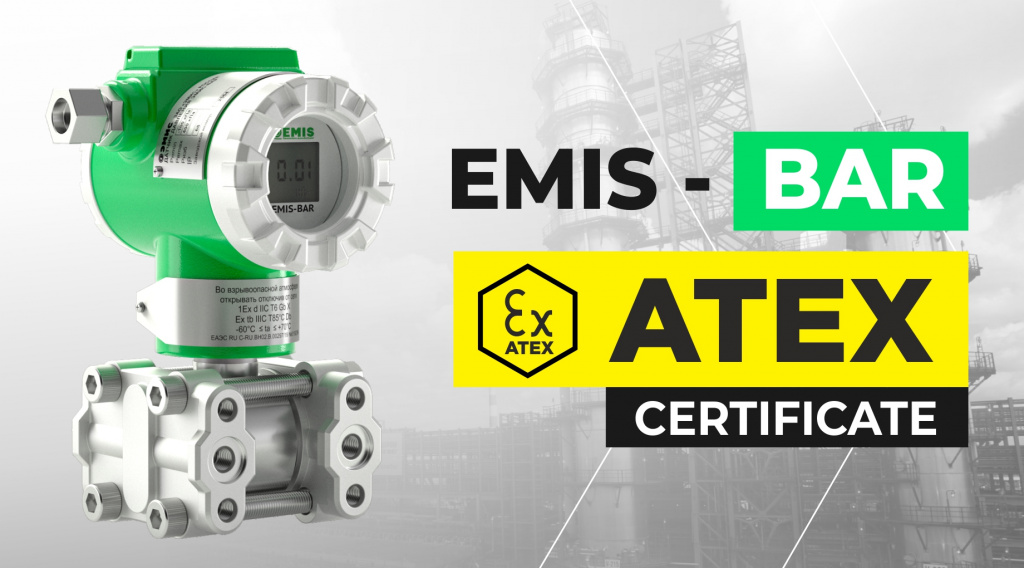 EMIS certified another device according to the ATEX standard - the EMIS-BAR pressure transmitter. In the course of comprehensive tests with high temperature, humidity and mechanical stress, the specialists of the ICQC certification center issued an expert opinion on the compliance of EMIS-BAR pressure transmitters with the requirements of the European Directive 2014/34 / EU (ATEX) for equipment used in explosive atmospheres.
As part of the certification procedure, the quality management system also received a positive assessment of compliance with European standards, which became another confirmation of the reliability of EMIS products.
ATEX certificate is issued for explosion-proof versions of EMIS-BAR pressure transmitters: intrinsically safe circuit (Ex i) and flameproof enclosure (Ex d). This certificate allows the manufacturer to affix products with a CE (Conformité Européenne) mark, which confirms compliance with European Union directives and harmonized technical regulations.
It should be noted that similar tests were previously successfully passed while ATEX certification for the EMIS-VIHR 200 vortex flowmeters in 2018 and for the EMIS-MASS 260 Coriolis mass flowmeters in 2019. In addition, the devices were certified in accordance with the European Union Directives 2014/68 / EU (PED) for pressure equipment and 2014/30 / EU (EMC) on electromagnetic compatibility.
Certification of equipment for compliance with European Union standards opens up more opportunities for company to participate in major foreign projects and export EMIS instruments to new sales markets, not only in the EU, but also in the Middle East, India and other countries where EU Directives are recognized on a voluntary basis.
Read more