Section has not been found.
Liquid filter EMIS-VEKTA 1210-Y, gas filter EMIS-VEKTA 1215-Y

Product description
Technical parameters
Advantages
Сomplete set
Product description
Industrial filters EMIS-VEKTA 1210-U, 1215-U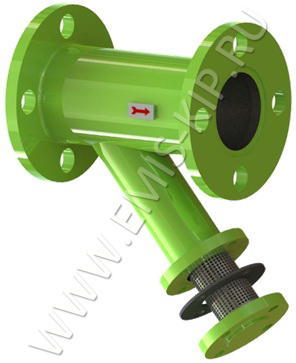 Filters EMIS-VEKTA 1210-U, 1215-U are used to protect pipeline parts of flowmeter, valves, nozzles and etc. from foreign particles.
Filters are mounted before protecting element, retain and collect foreign particles of flow. Filters are related to general purpose industrial products.
They can be used in domestic and industrial water supply systems, water drain systems, companies of petrochemical industry, gas supply systems (gas pipelines, gas storages, gas compressor stations), air conditioning and ventilation systems and etc.
When flow goes through the filter body, foreign solid particles are dropped out by filter element. Filter element is a narrow mesh. The degree of filtration is determined by diameter of meshes cell.
As far as filter element becomes dirty, input/output pressure difference increases, it can lead to break of filter element. It is recommended to clean filter meshes occasionally.
To order products, please, call: +7 (351) 729-99-13 or fill in data sheet configuration with a description of the process. Our specialists provide you a detailed technical and commercial offer.
Technical parameters
Parameter

Description

Pipeline Dn

15-500 mm
Medium
Medium pressure
0,6-25,0 MPa
Medium temperature

| | |
| --- | --- |
| «St» | From -25 up to +380 °С |
| «Stn» | From -35 up to + 380 °С |
| «N1» | From -28 up to + 450 °С* |
| «N2» | From -28 up to + 450 °С* |

Viscosity of process medium
from 3000 MPa·s
Pressure loss
Not more than 30 kPa excluding filter clogging
Standard mesh size

1700/830/380 µm ( depends on medium viscosity) – for liquid
180/150 µm (depends on parameters of medium) – for gas

Dimensions and weight
See. Operation manual
Service life (body only)
15 years




*from – 28 up to +180°С if process medium is aggressive
Advantages
Wide temperature range of measured medium: from – 35 up to +450 °С;
Max process pressure: 25,0 MPa;
Wide range of pipeline Dn: 15 – 500 mm;
Compact type.
Сomplete set
Installation
Mounting kit EMIS-VEKTA 1210-U/1215-U (counter flanges, sealing, bolts, nuts, washers) for installation filters on the pipeline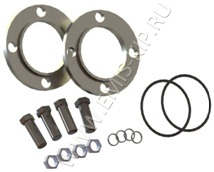 Flanged disassembling joint EMIS-VEKTA 1210-U/1215-U to provide easy and safety installation