Section has not been found.
Integral mass flowmeter EMIS-MASS 260

Direct measurement of mass, volume, flow rate density






Product description
Application
Documentation and software
Technical parameters
Picking
Presentations
Product description
Download the questionnaire
U-type integral Coriolis mass flowmeter EMIS-MASS 260
Standard enclosure type of the Coriolis mass flowmeter. It is modern and relevant measurement solutions. Installation of U-type flowmeter is carried out if there is enough space for it. The simple flowmeter design reduces its cost and makes it cheaper than other flowmeter types.
The installation of Integral type EMIS-MASS 260 is simple and requires low financial expenses and labor costs. But such flowmeter cannot operate at high mediums temperature.
Medium temperature: -60°С … 100°С
Application
Gas




Upstream oil




Petrochemical




industries




Transportation and storage




of petroleum products

Chemical oil



Features & Benefits of U-type integral Coriolis mass flowmeter
Simple installation;
Cheaper comparing to other versions
Remote data communication, configuration, testing through RS-485 Modbus RTU
Direct and reverse flow measurement mode;
Measurement of two-phase liquids;
High accuracy;
Stainless steel flow tube provides the application of the flowmeter for measurement corrosive mediums;
Can be used as the density meter to measure density and viscosity;
Short repay period of the flowmeters.
To order products please call: +7 (351) 729-99-13 or fill in a questionnaire. Our specialists will provide you a detailed technical and commercial offer.
Application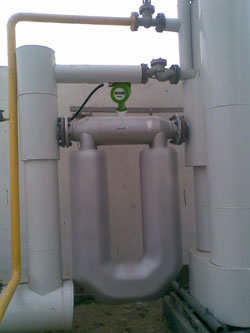 The versatility and high flow measurement accuracy have provided the wide applicability of the Coriolis mass flowmeter. EMIS-MASS 260 is applied:
in mixing and dispensing systems with continuous or batch feed of ingredients
for flow measurement of corrosive acids, alkalis and mixtures
for measuring during loading/discharge of tank car and other vessels
at petroleum and liquid gas stations
to control gas-cutting and bottling processes
as a master flowmeter in the verification stands and provers
The application of Coriolis mass flowmeters EMIS-MASS 260 includes the following industries:
chemical industry
upstream oil industry
gas industry
pharmaceutical industry
food industry
Technical parameters
Parameter

Description

Medium
Flow range
See table Flow Range
Accuracy

±0,1%, ±0,15%, ±0,25%, ±0,5%

Pipeline Dn
10 до 200 mm
Medium pressure
Up to 6,3 MPa, up to 25 MPa (special order)
Medium temperature
-60°С … +200°С
Output signals

analogue 4-20 mA
pulse
RS-485
Modbus HART

Explosion protection

1Exd[ib]IICT6X (transmitter)
1ExibIIC(T3-T4) (sensor)



Ambient temperature
-60°С до +70°
Ingress protection
IP67
Calibration interval

4 years
Picking
The cost of the flowmeter depends on the configuration.
Installation
Flanged disassembling joint EMIS-MASS 260. VT
for easy and safety installation of Coriolis mass flowmeters EMIS-MASS 260

Mounting kit EMIS-MASS 260
installation kit (counter flanges, gaskets, bolts, nuts, washers)

Power unit EMIS-BRIZ 90
to power the Coriolis mass flowmeter

Cable set
to connect EMIS-MASS flowmeter
Maintenance
Signal Processing Board EMIS-MASS 260
for replacement the main electronic board

An additional gasket kit
for replacement during maintenance of the mass flowmeter