Section has not been found.
Metal rotameter EMIS-META 215

Various materials performance.
Product description
Documentation and software
Technical parameters
Certificates
Advantages
Сomplete set
Presentations
Executions
Product description
Download data sheet configuration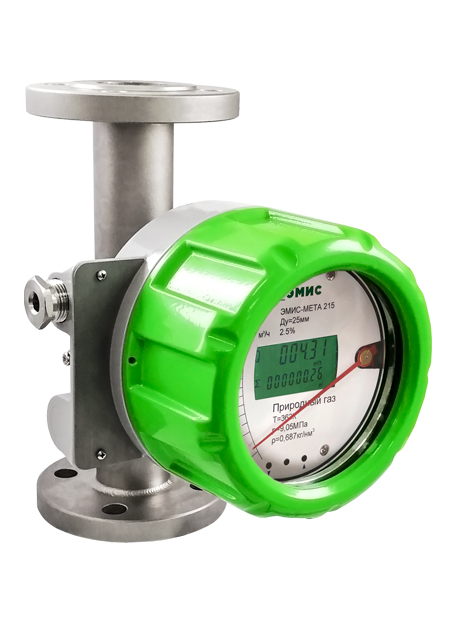 EMIS-META 215 is a metal rotameter with accuracy up to 1.5%.
Flow tube and components are made of stainless steel, so the flowmeter can be applied to measure gases, liquids and steam.
Produced by EMIS flowmeters can measure the flow rate even of corrosive liquids. The especial hydrogen sulfide performance has optional Polytetrafluoroethylene lining (PTFE) of the float and measuring cavity and spreads the field of application.
Features & Benefits
- High accuracy.
- Easy installation.
- Convert the flow value to standard 4–20 mA analogue signal, or to digital signal, based on the HART protocol.
- The process safety is provided with the limits warning. The design simplicity ensures rotameter life evaluation and reliability.
To buy metal rotameter please fill in a questionnaire.
To order products, please, call: +7 (351) 729-99-13 or fill in a questionnaire with a description of the process. Our specialists provide you a detailed technical and commercial offer.
Technical parameters
Parameter

Description

Medium

liquid
gas (including O2, H2)

Flow range
water: 2,5 - 100000 l/h
gas: 0,07 - 3000 m3 /h

Accuracy
±1%*; ±1,5%*, ±2,5%, ±4,0%
Pipeline Dn
15 ..150 mm.

Process connection
flanged, socket, clamp

Max pressure, MPa
Up to 10
Medium temperature
-80°С … +250°С
Output signals


indicator
analog current 4-20 mA
HART
up to 2 limit stops

Explosion protection**
1 Ex ib IIB T4/T2 Gb, 1 Exd IIB T4/T2 Gb/Gbc
Ambient temperature***
-60°С...+70°С
Ingress protection
IP65, IP67
Verification interval

5 years

*only for liquid medium
**for version with output signal
***LCD displays indication above -30°С

Certificates
Documentation for the countries of the Eurasian Union
Type approval certificate. EMIS-META 215

Approval for food application. EMIS-VIHR 200

Declaration of Conformity for «Electromagnetic compatibility»

TR CU 010/2011 "On Safety of Machinery and Equipment"

Declaration of Conformity TR CU 032 "On safety of equipment operating under excessive pressure"

Certificate of Conformity TR CU 032 "On safety of equipment operating under excessive pressure"

Certificate of vibration resistance. EMIS-META 215

Certificate of Application in the Oil and Gas Industry

The Customs Union Certificate of Conformity ТR CU 012 "On the safety of equipment applied in hazardous area". EMIS-MERA 215
Advantages
EMIS-META 215 retains the advantages of flowmeters:
The universal principle of operation allows the use of device for flow measurement of any gases, liquids and steam.
The design simplicity ensures rotameter long service life and reliability.
Widely-spread application of the rotameters provides easy verification and calibration.
New features of metal rotameters:
Metal body provides safe operation under high temperature and pressure conditions
Special anti-corrosion configuration with PTFE lining expands the application range
Built-in unified output signal 4-20 mА and two programmable emergency outputs

HART protocol

Horizontal installation on the pipeline

Сomplete set
Installation
EMIS-META 215 Mounting kit
counter flanges, gaskets, bolts, nuts, washers for installation on the pipeline

Power unit EMIS-BRIZ
to power the metal rotameter

Cable set
to connect rotameter EMIS-META
Filters & Functional Equipment
Magnetic filter EMIS-VEKTA 1210
to improve performance and service life
Executions
Warming type:
If it is necessary that the temperature of the medium does not change when passing through the rotameter, it is necessary to heat the measuring tube. For this purpose, it is optimal to use the heating jacket, which has fittings for supplying hot oil or steam.
The modification with the lining:
Rotameter EMIS-META 215 has anti-corrosion type for chemically corrosive mediums. Its wetted part has special PTFE lining.
Food type of metal rotameter EMIS-META 215:
The metal rotameter EMIS-META 215 can be used in the food industry as evidenced by the availability of a food application certificate.
Version with limit switches:
Rotameters are optionally equipped with one or two limit switches. The version with limit switch is made only if there is no output signal and LCD display.